Damp Proofing
Damp problems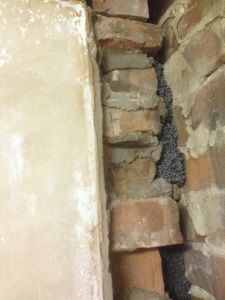 Damp can be a very serious problem that can lead to expensive structural repairs if not treated quickly and correctly. Timber decay may necessitate the need for new joists, floor and skirting boards and can cause your home to become much more prone to heat loss.
Damp is caused by many factors and what may at first appear to be rising damp could in fact be penetrating damp. There are many factors to consider, such as no existing damp course, the failure of your existing damp course, condensation, incorrect plasterwork applied by a previous contractor, or incorrect floor/ground height. Another cause of what is apparently rising damp can also be down to the drainage system on the outside of the property allowing water to flow directly onto the brickwork or render, or rainwater saturating the external brickwork and striking through at vulnerable points.
Wall-ties
The break down and failure of cavity wall ties is a widespread problem to walls throughout the North West, particularly in exposed areas or that of a marine environment (coastal areas) or in walls of particular construction and with specific aggressive mortar types. The corrosion of cavity wall ties can lead to horizontal and/or stepped cracking to brickwork, bulging of brickwork and in more severe cases the external leaf of brickwork has been known to collapse. The answer in most cases is to isolate the existing old ties and introduce a new system of stainless steel remedial wall ties all in keeping with current regulations and with the minimum of disruption.
Here at Barnett's Builders we can advise on the best methods available to overcome and solve all these problems, with 30 year guarantees being available, and all our products available to view and purchase from our shop.